I'm not sure about anyone else, but lock down has given me time to catch up on a couple of projects while making sure that my husband who's working from home is well taken care of.
I'd love to know what all of you have been getting up to too.
I have a long outstanding knitting project that has now become a crochet project that I've been working on since October. Yeah it's a long time but I've kept changing my mind as I'd start a pattern but then end up not liking it in the end and have twice after 2 weeks, simply undone the whole thing to then find something different and start again. I'm pleased I'm nearing the end again and am hoping to not pull it undone but who knows if I'll manage that 🙂
It began with wool I had already purchased but hadn't put to any use yet and the desire to turn it into something autmn themed like leaves.
I found and purchased a delightful pattern on Ravelry called Knitted shawl Autumn Lace by Svetlana Gordon
I initially really battled with the pattern but after some perseverance it suddently began to make sense and once I find the right wool I will definitely give it another go.
The wool I started with was probably the right yarn weight for the project but I decided it was too long so ended up undoing almost 4 weeks of work.
Then I bought some stunning wool on Etsy as I really loved the colours but with it being a lace weight yarn the leaves just kept curling up so I ended up undoing it and then started looking at other patterns I could try.
The wool I purchased was Hand dyed 4ply Polwarth yarn Falling into Autumn by CraftyCatKnittyBits and I purchased the last 2. I really wished I had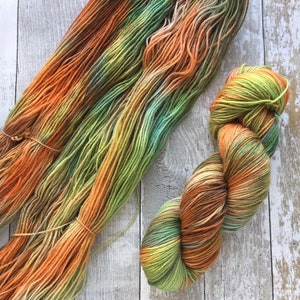 been able to purchase more than that as all my projects so far seem to have been too big.
For this project I have used knitting needles and crochet hooks purchased on " target="_blank" rel="noopener">Amazon.
I am now using the wool to crochet a shawl with a variety of flowers. I started with the Vala Flower Shawl which is amazing as there are video tutorials  for the flowers which has been a great help. 
Once I got further into the pattern I decided to continue but didn't want to repeat the same flowers I wanted to try something bigger so have gone with a variety of flower stitches I found online. I found some pretty flower patterns done by mypicot.com simply click on the image to go to the fabulous free patterns.
My Picot crochet flower pattern 2067
As I go and add more flowers I will update this post with pictures and links to the flowers I have used.